I recently discovered that I'm the son of an audiophile – suddenly I understand why I was encouraged to buy a decent amplifier/receiver at a very young age, suddenly I appreciate those old dads-college-days/hand-me-down kickass KLH speakers just a little bit more than I always have. I am definitely not an audiophile myself, but music is a huge part of my happiness in life. I'm also a geek, so over the years I've learned a clever thing or two about the hobby of collecting and listening to music, and I'd like to share a bit of what I've learned.
Required Reading
Before we get into the hardware geekery, I think it's prudent to point you toward a few classic articles and books about the music industry.
First up is Steve Albini's The Problem With Music. Albini produced classic pixies and nirvana records, but, to me, his no-nonsense approach to writing and putting it all out there is just as important. There's also a classic no-bullshit letter from Albini to Nirvana before recording In Utero that's fairly entertaining to read.
Next, consider Courtney Love's Courtney Does the Math article. It's a financial deep dive that shows the money for a fairly successful act dwindling from $2 million up front to almost nothing for the actual band members at the end. Sombering stuff.
Another highly recommended read is David Byrne's How Music Works. And, depending on your interests, there are some entertaining bios out there for various musicians, I've enjoyed a few: Marilyn Manson, Pearl Jam, Nirvana, The Pixies, The Smashing Pumpkins. There are also a few books I haven't yet read, but will eventually for bands such as: The Cure, Jane's Addiction, and Pink Floyd.
While we're at it, music fans should also check out Sound City, Hype, It Might Get Loud, Pearl Jam Twenty, The White Stripes: Under Great White Northern Lights, Metallica: Some Kind of Monster, Anvil: The Story of Anvil, The Other F Word, Almost Famous, High Fidelity, Empire Records, SLC Punk, and Spinal Tap.
Finding Music
Before you get yourself in too deep with discovering great music you want to hear, I'd highly recommend considering a monthly subscription music service such as rhapsody or spotify. Each of these services cost about $10 a month and let you listen to as much music as you'd like on a computer or on your iOS or Android device.
Years ago these services were a ridiculous pain in the ass in terms of portability, but the advent of the iOS and Android apps for the services simplify everything greatly. If you don't have a smartphone, I recommend considering an iPod Touch and using the service's download-for-offline-play feature.
One downside to the streaming services is that at times, it's like netflix vs hbo go vs hulu vs whatever. That is – an artist can have a terrible exclusive deal with one music service or another, so the one you pay for doesn't have that artist's latest. And don't forget that some of your favorite bands are stuck in the 20th century mindset, for example: you won't find led zeppelin, ac/dc, metallica, the beatles, and a few other acts on these streaming services. Jerks.
The rhapsody/spotify services also have the ability to browse music by genre, often with features like "most popular track, album, artist for this genre" – find a genre, or obscure corner genre such as shoegazer or dream pop, and discover something new that way.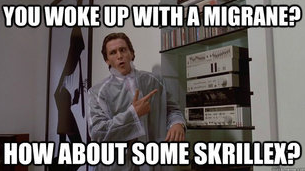 Discovering music in the 21st century is super easy. Just plug a favorite band or song into an internet-radio/recommendation engine like pandora radio, last.fm (more indie acts, but less big-label acts), or itunes radio. The subscription services (rhapsody, spotify) also have social features and recommendations such as "acts similar to this one" or "albums similar to this one" or "influences for this band".
Other recommendation sources to consider are your friends and family who enjoy similar music; online forums for bands you like (examples: nin, matthew good); and amazon's recommendations listed with your favorite album ("people who bought this also bought..").
Occasionally a band will mention bands they're influenced by or listening to in interviews, and often the wikipedia page for your favorite band will have this kind of information readily available. For example, I probably would not have given The Cure a fair shake if it weren't for James Iha from The Smashing Pumpkins going on and on about them every chance he got.
Indie and popular acts alike often upload tracks to soundcloud, and bandcamp, and there's always random music blogs to consider, such as sound junkie soapbox, or mixed tape masterpiece.
Discogs.com is sort of a music-central wikipedia/music marketplace. It's often a better resource for websites and discography lists related to a band than wikipedia or an artist's own site is. This website is especially dangerous for niche or vinyl fans, as you can find almost any album ever published for sale – sometimes very expensively.
Finally, for a little nostalgic trip, consider wikipedia's album release lists, genre lists, and/or billboard lists.
Buying Music
These days the most popular way to acquire music is by buying it online. Keep in mind that when you buy something on iTunes you'll run into insane DRM nightmares down the road, fun such as not being able to play music you bought on a non-apple device, etc etc. Basically, this:
Instead, I recommend buying music through Amazon, bandcamp, or directly from the artist's website.
Most music purchased on Amazon is forever-available to instantly stream or re-download in the future via Amazon's Cloud Player.
If you're still a fan of purchasing physical copies of music (a cd or vinyl), you should definitely consider purchasing new copies of your albums through Amazon when they have the "AutoRip" label on the cover.
With AutoRip, Amazon automatically gives you a forever streamable and/or downloadable copy of your album in their cloud player. A cool feature about AutoRip is that it's retroactive, there's a good chance you can insta-download mp3s of albums you bought 10 years ago on Amazon, right now.
For CD/Vinyl fans, It's getting harder and harder to find anything you're looking for in a local brick and mortar big-box such as best buy, target, etc. I've found fry's electronics still has a halfway decent in-store selection, but really, these days, the physical media nerds will need to check out a record store. You can find a nearby record store by searching on yelp in your area. Here's a short list of stores I've visited and highly recommend:
* Waterloo Records (Austin, TX)
* Pirahna Records (Round Rock, TX)
* Easy Street Records (Seattle, WA)
* Forever Young Records (Arlington, TX)
Vinyl fans should also consider the following:
* The Austin Record Convention – annual record convention w/ more than 300 vendors.
* Absolute Vinyl (Boulder, TX)
* Breakaway Records (Austin, TX)
* Austin Citywide Garage Sale – monthly convention, half a dozen vendors have vinyl.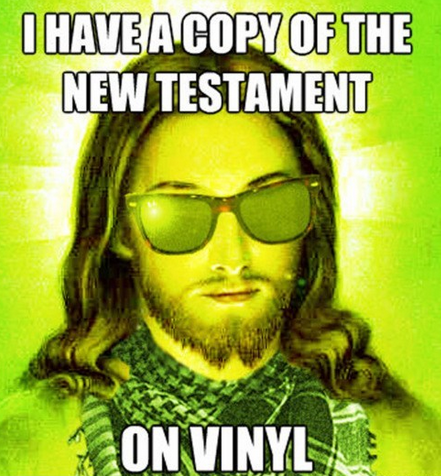 Choosing Test Music
Before you buy any music equipment, it's important to understand that unless you're paying many hundreds or thousands of dollars, the equipment you buy will most likely "color" the music. That is, the equipment will bias bass a bit louder, or treble, or feel more "open" (like a concert hall) or "punchy" (like a small room w/ carpet).
I recommend testing equipment before you buy it. To do this, you need to make a playlist of songs to demo equipment with. Put the playlist on your smartphone and a cd, and bring necessary wires to hook your device into whatever you're targeting. Your playlist should have a couple or three songs that you are very familiar with and you know how you expect the song to sound. Everyone's taste in music and sound balance differs, and you don't have to be a music snob or genius to understand what you're looking for – just pick some favorite songs that you will *know* when they sound "right" to you.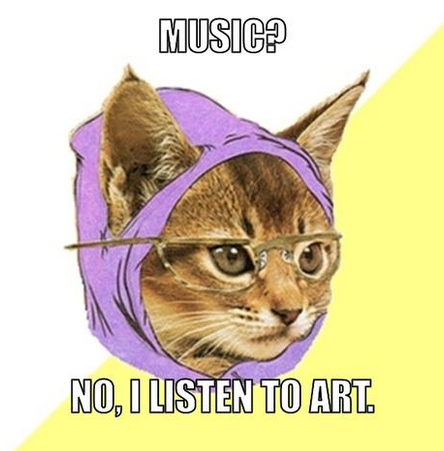 For myself, I like a balanced sound that's just a tad warm with super clarity. I love me some reverb/open sound, so what I'm looking for is something that sounds "wide open" with super clear mids and treble – with bass I can hear that isn't overpowering the rest but instead is a subtle but powerful driving undercurrent.
There are more than a few songs that I considered that exemplify what I "like", but here's what I came up with: When I was test driving cars I used Sigur Ros' Saeglopur, and when I tested PC Speakers I used Ulrich Schnuass' In The Wrong Place and The Smashing Pumpkins' Porcelina of the Vast Oceans.
Video for Sigur Ros' Saeglopur:
Note that youtube compressed audio may not be the best representation of the nuances I'll describe below.. but you get the idea.
Saeglopur was chosen because it has this beautiful super clear beginning piano w/ bells – right off the bat I can tell if a stereo's halfway worth it if that section sounds enveloping and beautiful – or muddied. Later, the song builds into something roaring and huge and the moment of crescendo/catharsis is absolutely key. Right around 1:50 – 2:15 a huge swirl of spine-tingling warm catharsis fades in and ought to make me skip a breath or two – some cars had auto-volume leveling features that muddied or otherwise ruined this. Later, after the swell – the track is muddier than I'd like – to an annoying degree, I suppose there's too much going on – but I find it bothers me less depending on the clarity of the hardware.
Video for Ulrich Schnauss' In The Wrong Place:
The Ulrich Schnauss song has a similar super-clear intro with this little "springy/bouncy" sound on the kick sample – you'd be surprised how many sets of PC speakers we tried where the "spring" effect was completely muted and gone. Like Saeglopur, it quickly builds into a bed of lush instrumentation with more than a few distinct synths of varying tonal qualities running around. In particular there's a very subtle but strong bass line going that was often absent on test equipment. Around 3:00 there's a significant change to the tune and a new synth melody comes into the picture – but it's subtle and hidden to some extent – I would fast forward to this spot and listen and on many speaker sets this driving melody would be completely hidden in mud and the song ruined.
Video for The Smashing Pumpins' Porcelina of the Vast Oceans:
The Pumpkins' track, Porcelina, is more or less Saeglopur with a better mix/balance IMO, it starts off with a long fade-in of guitars that either sound lush and full – like the music surrounds you in a warm envelope of comfort, or like little treble punches here and there – all depending on the quality of the speaker set. As the song builds to serious overdrive w/ the classic marshall sound there's an edge to the guitars around 2:15 through 2:40 – again, a fullness of sound, that just can't be lost – but often is. Finally, there's a synthy/raspy guitar in the right speaker during the first verse that would often be completely lost on substandard sets.
Purchasing Hardware
If at all possible, test your potential hardware in person – at a fry's electronics, or (worst case..) a best buy, or a friend's house.
If in-person won't work, Amazon is the obvious choice, with a great return policy in place if you aren't satisfied.
Other options to consider include Newegg, J&R, Musician's Friend, and Guitar Center.
Also, seriously consider MonoPrice for all of your cable, adapters, and so on – you can occasionally find similarly priced quality 'amazon basics' items on Amazon – but MonoPrice's prices and customer service in the event of a problem are awesome.
Decent Hardware (Home Theater/Computer)
As I mentioned earlier, your individual taste in music will affect the type of equipment you like. Price points are an important consideration as well, you may be able to purchase a $10 set of headphones that beat some $50 sets, but you will not find a $50 set that eclipses a $250 dollar set – and so on.
Before we start the hardware recommendations, keep in mind that I'm not an audiophile myself, but over the years I have cobbled together some audio equipment that is good enough for me. I have a even mixture of moderately expensive (more than $100 per part) and inexpensive hardware. Further, I have some hardware that's more than a decade (or two) old, and still doing just fine – this works for me, but if you want stuff with the bells and whistles, I have a few more recent home theater builds from friends that I think sound amazing as well.
In our living room we have an ancient, inexpensive, but still kicking and awesome Sony STR-D615 receiver driving my father's college KLH Twenty speakers, which are 40 or more years old. This setup was the configuration that I cut my teeth on and annoyed my mother to-no-end with as a teenager – as a kid there was nothing better than turning these up astoundingly loud and sitting not 4 feet in front of them – listening to porcelina repetitively. These days the KLH's have a pair of MBQuart QLC104 speakers sitting on top of them as the "front" speakers – the MBQuart's are better for TV and video games than the KLHs are, but the KLHs slaughter the MBQuarts for music imo.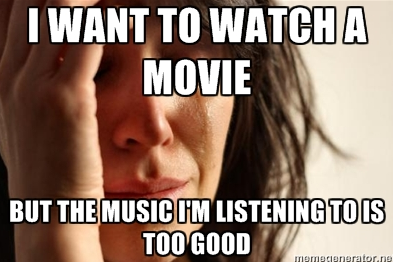 I'm not a 5.1 or 7.1 guy, as most setups I've heard sound like garbage or oddly balanced, and I generally enjoy friend's setups with similar predispositions against the N.1 nonsense. A buddy of mine with much newer hardware has a beautiful sound emanating from Paradigm Studio 100 v5 for left/right and a Paradigm Studio CC590 v5 for center. He drives all of this with a Pioneer VSX-21TXH. If I were to upgrade our living room receiver/speaker situation – his would be the one I'd match.
That being said, I do have one buddy with an amazing 9.2 (7.2 in reality, as nothing does 9.2 yet) setup that actually does the proper 3D surround sound effect. The trick seems to be to have a table with the rear speakers directly behind your couch, right behind your head. He drives his system with a Pioneer SC-1222-K. The speaker setup is two Polk Audio New Monitor 75T Four-Way Ported Floorstanding Loudspeakers, Polk Audio New Monitor 25C Two-Way Center Channel Loudspeaker, and 4 rear speakers poached from a Klipsch HD Theater 600 Home Theater System. He configures his system with the 3 polks in the front, 2 klipsch's next to those, 2 subs up front, and 4 on the table behind the couch.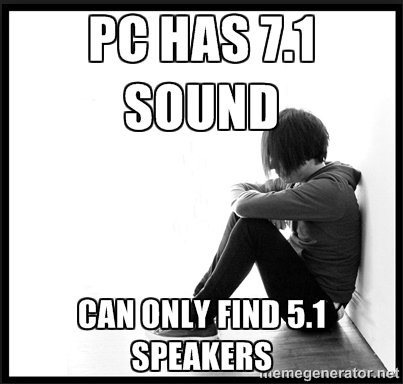 Note: Both of my friends with the 2.1 and the 9.2 setups are fairly hardcore in their dedication to finding the best equipment for their price range – they both did extensive research to land on their setup of choice, and the research definitely paid off – both setups sound amazing.
In our kitchen we have a crappy little $35 iphone dock (iLive IBP181B) that sounds like garbage. The price is right, and for our needs, it work's perfectly – we don't exactly need crystal clear tunes when we're making a bunch of racket in the kitchen cooking, doing the dishes, or cleaning.
For years we had a pair of unassuming – but *amazing* sounding – Harmon Kardon pc speakers setup in our bedroom, one speaker per nightstand table – with the audio jack floating around and easily pluggable into a laptop or portable music player. We purchased a pair of these for my father a few years later, and my father, the audiophile, liked them so much that he purchased 5 more sets for various places around his house – they're awesome.
Years ago, a friend of mine had the Harmon Kardon space-bubble speaker set and it sounded excellent as well. One more thumbs up for Harmon Kardon: newer toshiba laptops in the $700 range (ie model P745-S4320) have Harmon Kardon speakers – and these little speakers absolutely slaughter other laptop sound systems, including macbook pro laptops with the speakers beside the keyboard.
My buddy has had a terrific pair of pc speakers forever, the original cambridge microworks model, but they were too expensive for my blood until recently. My wife and I tested pc speakers at fry's for a nice set in the bedroom, and unsurprisingly we found the cambridge microworks ii to be the best they had to offer – important note: these were not the most expensive pc speakers the store offered!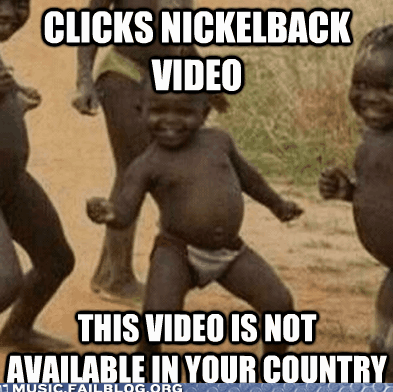 For our computers I have a Klipsch ProMedia 2.1 set – which for all intents and purposes is identical to the microworks ii set as far as I'm concerned. One downside to the promedia set is there's no easy way to turn them off, the volume nob bottoms out at no-sound, rather than "off" – and there's an off switch on the back of the sub, buried behind my desk – useless.
My wife's computer has a set of Bose Companion 2 Series II speakers – these sound decent enough, but are a far cry from the microworks or promedia sets (as expected, they cost half the price, and have the label "bose" on them..).
A fairly solid inexpensive option for PC speakers or a small sound system in a random room, the Logitech S220 from a few years back retailed for about $20-$40, and they rival many of the $100-$150 options I've seen – a bit tinny, but functional.
Another inexpensive setup to consider is the popular LP-2020A+ Lepai Tripath Class-T Hi-Fi Audio Mini Amplifier, with a set of Sony SS-B1000 speakers. A small office I worked at had this setup for a conference room, and the sound was amazing – super clear, full, and defined. I was shocked that the speakers only cost $70, I was expecting a much higher price tag based on the clarity of sound.
Headphones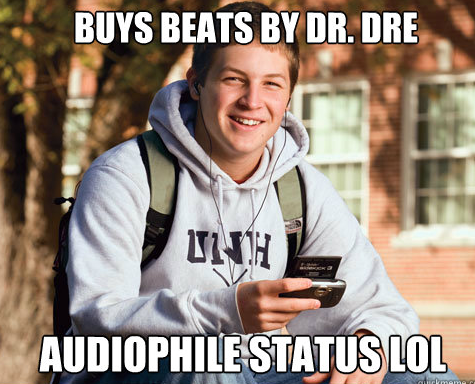 I have a love/hate relationship with headphones. I've spent probably $1000 in headphones over the past ten years, in $50 and smaller increments mostly, over and over. I continually bought cheap headphones b/c I thought there'd be a satisfactory pair that could match a $50 pair a roommate discovered in college – but I couldn't. For me, the holy grail of headphones is a pair of Coby CV-670.
Coby's stuff is generally average at best, but those CV-670s will always have a special place in my heart as the set to match. More recent models such as the CV-630 are decent enough, and they'll be great for most listeners, but they pale in comparison (build quality, and sound is "super bass"/crap – as labeled) to the CV-670 model of 2001.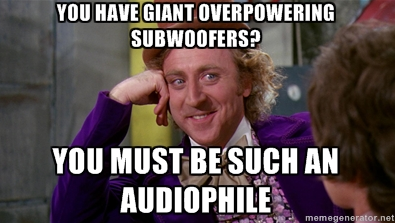 A half dozen not-worth-mentioning $20-$50 attempts later, I finally put real money down for the Sennheiser HD598 open air model – my god. I spent a fair bit of time researching various models in the $150-$300 range and took a minor chance on this set after reading many comparison reviews on Amazon. The research and expense was worth it – I'll never buy another 'high quality' set of headphones again until this pair wears out 10 or 15 years from now. The funny thing is, I spent well over $300 in $30 and $50 pairs of disappointing headsets over the past 12 years since the CV-670s – sometimes it makes sense to save, I guess.
I cannot begin to describe the experience of listening to music on those sennheisers – I think the best way to get the point across is to say – I've never had a piece of audio equipment that made me want to go back to all of my favorite music and hear it anew again – until I bought these. If you are a big music fan and/or listen to it while you work, do yourself a favor and save the money – your next decade of music enjoyment will be worth it.
With this pair of headphones I can tell a significant difference between remastered and non-remastered versions of the same album, and as cliche as it sounds, I can truly hear nuance and bits of my favorite albums that I'd never heard before. The headphones are so good that they forced me to start buying CDs again, to rip a higher-quality version of the albums I love – because with this set I can hear a difference between that high quality rip and the "HQ" stream or download from a music service.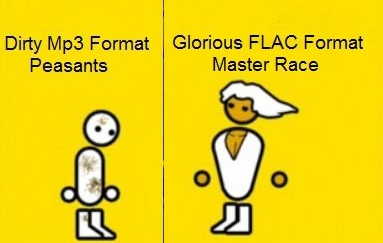 For a long while I tried to find noise reducing headsets or closed ear headsets to use at work. The aim has generally been to not disturb my coworkers rather than the other way around – as I tend to listen to music very loudly.
A short history of sets to consider, but probably pass on: JVC HANC line – colors the music, tinny, muddy – decent on an airplane though; Koss QZ-99 – inexpensive, sound is passable, so heavy they gave me headaches; Bose QuietComfort® 15 – best noise reduction, colors sound quite a bit, not as bad as JVC but meh.
In the past year I settled on the Audio-Technica ATH-M50 – I'm not in love, b/c the sound color is not to my liking – I've read these have a very flat accurate response so perhaps I just like things a touch warmer than reality, but they're better than everything else I've tried. One thing that's surprising about the ATH-M50s is that they sound *great* on an Airplane – perhaps because you can't hear the nuance as well at high altitudes, but it does feel like they sound better in the air in than on the ground. Another set to consider that's much less expensive and with a minor test sounded better to me than the ATH-M50s, is MonoPrice's Premium Hi-Fi DJ Style Over-the-Ear Pro Headphone – this pair costs about $25 and sounds like or beats the $100-$150 ATH-M50s.
If you're not looking for $300 or noise canceling options, there are a bunch of inexpensive earbud type options I'd recommend. The Panasonic RPHV21BL earbuds run about $10 and easily sound the same or better than many $30-$50 range options. I was never a fan of the apple earbuds that came with their devices, but their newer EarPods line sounds really good – not much better than the Panasonics though.
—
That about covers my long list of core music recommendations. In the next part for this series I'll cover portable music, wireless hardware, a bit of vinyl trivia, and various odds and ends.